ViewIQ - Radiology Display Calibration Software
Display Calibration Software for Consistent Optimal Image Appearance
When diagnostic accuracy matters
Optimise the chance of detecting subtle pathologies by calibrating your image displays to radiology standards.
ViewIQ is an easy to use Microsoft Windows program for calibrating radiology and medical image displays to DICOM/ACR/RANZCR/RCR standards.
For the IT/PACS Manager -Take Control of Your Radiology Monitor Calibration
A web interface to your account lets you automatically collect, review and manage the calibration of a distributed fleet of radiology displays.
A "Chirp" each time the calibrations are applied will give you a centralised view of the current calibration status of each display.
Central monitoring for the efficient management of your distributed fleet of displays
Use ViewIQ software with an
X-Rite i1Display Pro
photometer to calibrate radiology displays to professional Radiology standards. Maintaining consistency and accuracy of diagnostic images wherever they are displayed across radiology.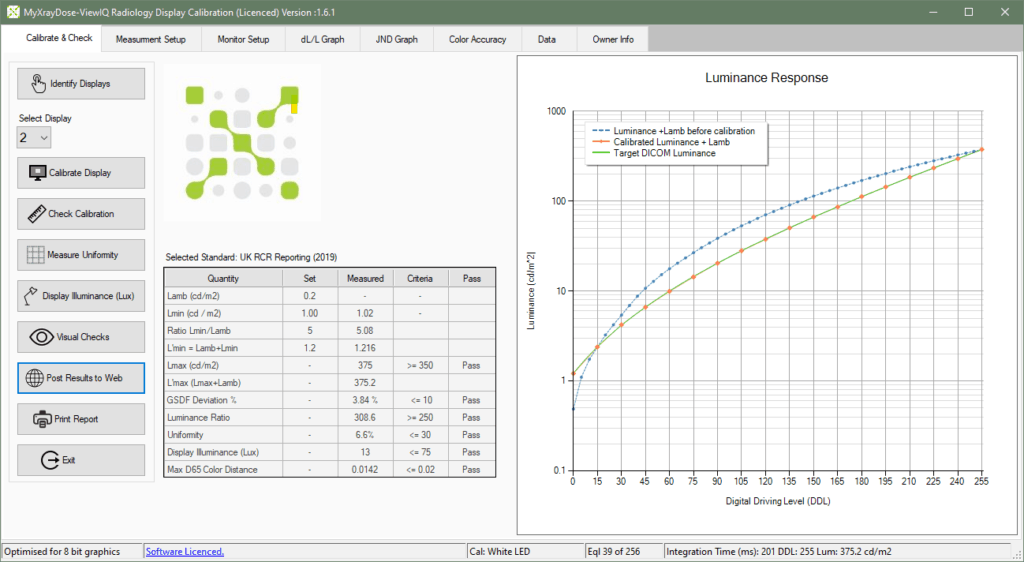 * available with a subscription to the cloud service
To maintain consistent, optimal diagnostic accuracy across radiology, medical images need to be viewed on displays that maintain optimal contrast perception whenever they are displayed.
This can be achieved by the application of professional radiology standards. These standards define the display grayscale characteristics and the specifics for room lighting, display black and white levels and pixel size and screen dimensions. When applied across all equipment in the fleet from acquisition monitors to radiologists displays, consistent optimal appearance can be achieved.
X-Rite 1iDisplay PRO (1D3 OEM)
i1Display Pro Measurement Optics
| Feature | Specification |
| --- | --- |
| Number of Channels | 3 filter design |
| Measurement area (in contact) | 42mm diameter circle |
| Acceptance angle | +/- 5 degress (at half max) |
| Luminance Measurement Range | 0.1 cd/m2 to 2,000 cd/m2 |
| Minimum measurment integration time | 0.1 sec/measurement @ 100 cd/m2 |
| Maximum measurement integration time | 6 sec/measurment @ 0.1 cd/m2 |
| Effective measurment Primaries | CIE Standard (1931) Observer |
| Ambient measurment angle | 160 degress cosine response |
| Ambient illuminance measurment range | 0.5 lm/m2 to 5000 lm/m2 |
i1Display Pro Measurement Performance
| Feature | Specification |
| --- | --- |
| Colour Accuracy | +/-0.004 x, y @ 100 cd/m2 |
| Luminance Accuracy | +/- 4.0% @ 100 cd/m2 |
| Color Short Term repeatability | +/- 0.001 x, y @ 100 cd/m2 |
| Luminance Short-Term repeatability | +/- 1.0% @ 100 cd/m2 |
ViewIQ Home Reporting pack is ideal for calibrating a Windows home reporting station to professional standards. If your monitor(s) meet the brightness, resolution and viewing angle specifications applicable to your region, then ViewIQ will calibrate the luminance characteristics of your display to the DICOM Part 14 standard completing the process of calibrating to radiology standards.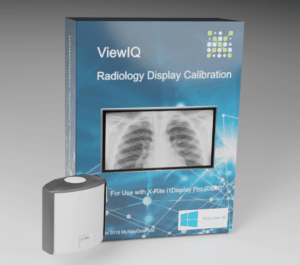 Example Professional Displays Capable of being calibrated with ViewIQ to Radiology Standards
32" General Radiology Reporting
Dell UltraSharp U3223QE 32" 4K UHD Monitor
Dell UltraSharp U3223QE 32" 4K UHD Monitor
27" General Radiology Reporting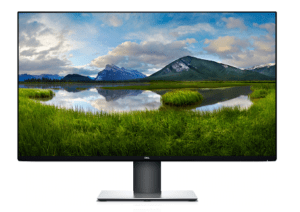 Dell Ultrasharp U2723QE 27"4K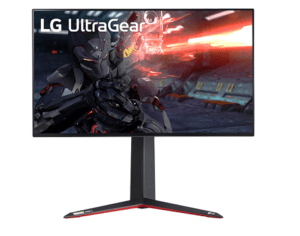 Frequently Asked Question
ViewIQ is designed to work for the X-Rite i1Display Pro OEM version only. A firmware key prevents the software form working with the consumer version.
ViewIQ will work with Windows 10, and Windows 7. It will not work on Mac OS, iOS, or other non Windows operating systems.