Dell U3219Q - Quick Setup Instructions for Radiology Reporting
U3219Q Technical Specifications
The default settings of the Del U3219Q do not achieve the required 350 cd/m2 brightness to meet the general radiology reporting standards. Increasing the display Brightness to 95% should correct this.
Disclaimer: Failure of the displays mentioned on this website to meet the manufacturers stated specifications are solely between you and the display supplier.
U3219Q Quick Radiology Setup
Steps to increase the Brightness to 95%
1. Press any button (except the power button) to activate the OSD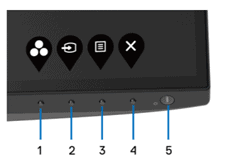 2. Press the third button twice to activate the monitor menu (once to display the menu the second to activate).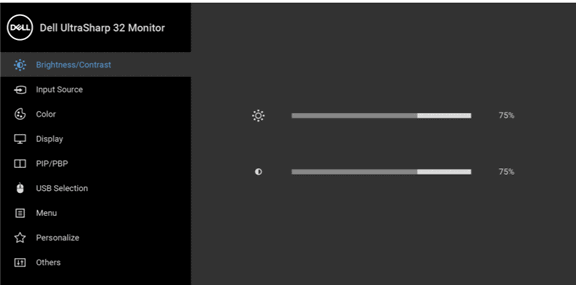 3. Select Brightness/Contrast using the up/down controls. When the brightness bar is active blue) use the > control to increase the brightness to 95%.
4. Press the return icon to lock this setting in. The display should now be bright enough to meet general radiology reporting standards.
5. Now run ViewIQ to calibrate to general radiology reporting standards.
X-Rite Photometer and ViewIQ software to complete the job is available from our shop.
U3219Q Pre and Post Adjustment Performance Results
U3219Q default settings measured brightness: 298 cd/m2
Changing brightness to 95% while leaving everything else the same.
After adjustment measured brightness: 370 cd/m2
Troubleshooting the U3219Q
If any adjustment or changes have been made to any of the display settings then perform a Factory Reset to restore the display to a known state.
U3219Q Factory Reset
Locate monitor firmware buttons on the lower right side of the monitor under the bezel.
Press the third button from the left twice (once to get the menu the second to activate the monitor menu)
Use the second button  to scroll down to Others
Press the third button from the right to access the sub-menu and then scroll down with buttons to select Factory Reset
Select the tick and scroll right and select tick again